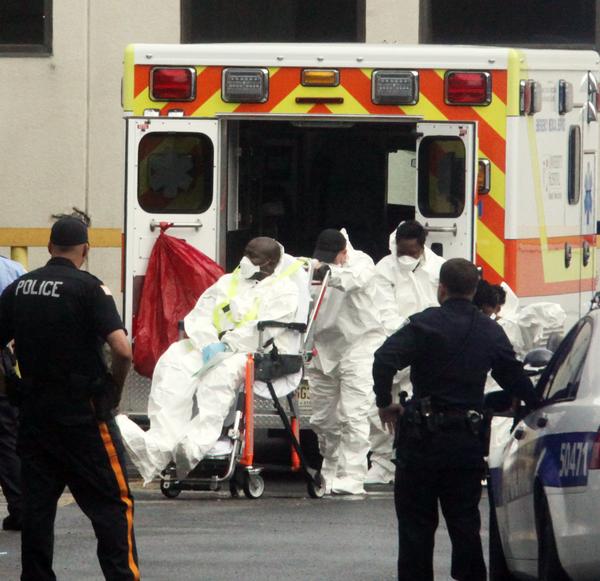 plane at Newark Liberty International Airport, just 30 minutes outside of New York City, was sealed over fears that a passenger on board was carrying the Ebola virus, according to a report.
The Centers for Disease Control and Prevention is investigating United Airlines Flight 998 from Brussels, after a passenger had begun vomiting on the plane, CBS reported.
SEE ALSO: CDC to Travelers from Ebola-stricken Countries: Here's a Fact Sheet
"Upon arrival at Newark Airport from Brussels, medical professionals instructed that customers and crew of United flight 998 remain on board until they could assist an ill customer," United Airlines said in a statement, according to the report. "We are working with authorities, and will accommodate our customers as quickly as we can." Read more after the cut.....
A CDC spokesperson confirmed to Mashable that "quarantine officers did meet the plane and assess the patients," but added that "it's what we do routinely for any ill person on a plane." The spokesperson did not confirm whether passengers were deplaning.
United said in a release that the ill passenger "was taken to a local hospital, and the other passengers deplaned the aircraft."
According to the CDC's website, Ebola is "not spread through the air or by water, or in general, by food." Rather, it's spread through direct contact with an infected person's bodily fluids. So if the sick passenger was infected with the Ebola virus, the other passengers would not have been at risk unless they somehow came in direct contact with the sick person's bodily fluids.
After reports of the grounded flight surfaced, several Twitter users who claimed to be at Newark Airport tweeted out conflicting accounts of the plane's status.